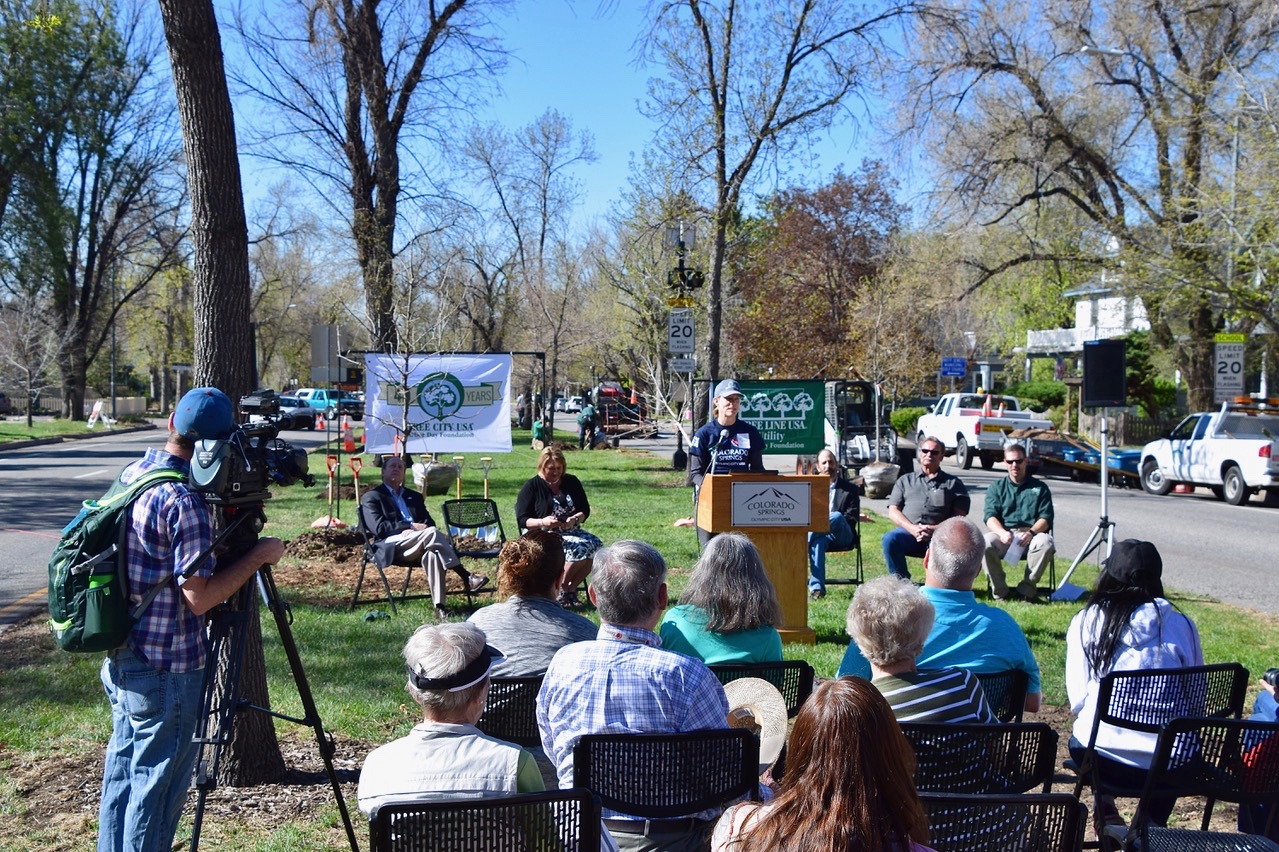 ~ and the '40 Years, Tree City USA' Arbor Day Foundation award ceremony
North End Woodlands Project Day
The partnership between our City Forestry Division and our neighborhood has been uniquely beneficial to the entire city, and we have worked together with joy and fidelity. We were honored to receive a Proclamation from the City Council, recognizing May 22, 2018 as The North End Woodlands Project Day in the City of Colorado Springs.
The velocity of this collaborative planting project — 100 trees in 1-year — is hugely attributable to our City Forestry Division. The City Forestry Division, in accordance with our Memorandum of Understanding, felled and cleared 100 dead trees, hand-selected the new tree stock, augured new holes per Mr. Brett Jackson's landscape design AND assisted in the planting of new trees over four plantings. Additionally, the City Forestry Division has committed to providing supplemental water for each tree for three years. You guys are the best!
It was with some trepidation that we first approached the Old North End Neighbors in 2016 as the bearers of bad news—over one hundred dead or declining trees were slated to be removed from the historic medians in their neighborhood and the forestry division's tree replacement budget had little money for replanting. Since that first meeting over coffee and apple pie, our collaboration with the group that grew into North End Woodlands has blossomed into an exemplary partnership that continues to bear fruit today. Not only did NEW raise the funds to replant the trees most recently lost from the medians, but they've set their sights on filling in the gaps where trees were removed long ago and, more impressively, established a fund to help care for those trees in the future.
The Colorado Springs Forestry Division and North End Woodlands both recognize that the plantings on these medians are an investment, not just in the neighborhood, but in Colorado Springs' future that will continue to pay aesthetic, environmental, and economic dividends long after those who planted them are gone.
- Jeff Cooper, Staff Forester, City of Colorado Springs
City Forestry Division Approved Tree Species List & Design Plans
"I was pleased to see the choice of tree species for the new median plantings - they are tough, drought tolerant, and beautiful. The diverse mix of species also insures that they will grow into a healthy urban tree community with less possibility of devastating damage from insect or disease." - Carey Harrington, Colorado Native Plant Master